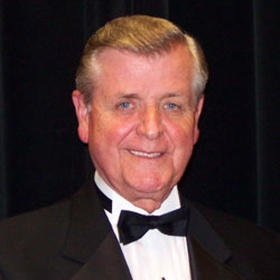 Ken Sloan began dancing at the age of fourteen. Because he was enamored with a young lady who shared no interest in his enthusiasm for soccer, he promptly coerced eleven of his team members to join him in enrolling in a school of dance. That surely ought to win her! When the group arrived for their first lesson, they were told the only instruction available was by way of a Bronze Medal class. Unaware of the standards of ballroom dance, and to the amusement of the teacher, the boys figured that was okay for them. As it turned out, and to the dumbfounded teacher's surprise, five of the lads, including Ken, finished the Bronze Medal class and continued on to Silver.
By this time, smitten with the art of ballroom dancing, Ken went into competition and soon became the youngest all-Ireland Amateur Champion. Traveling around Europe with the British team, he won every major amateur championship Ireland could come up with. But when the soccer coach said 'kick-ball or dance', he decided to go pro! This was a difficult choice for Ken to make for, along with his love for soccer, he had gained gallery recognition as a fine landscape artist. But, aware that excellent dancing necessitates more time than either art or soccer will allow, he decided to give up the ball for the ballroom, and the brush for the brush step. He went on to study for his Professional Exams, passed with honors, and, shortly thereafter, took third in his first pro comp.
In 1961 Ken opened his own school in San Carlos where he trained juniors and amateurs for competition and formation dancing. In 1962 he ran his first Emerald Ball Dancesport Championship in San Mateo, and in 1964 he moved to Los Angeles to…(here it comes)…partner with Sheila Webber (then Sire). They opened a large school on Hollywood Boulevard where they taught and trained couples for competition and shows over the next eight years. They have remained independent studio operators ever since.
Ken Sloan BBC&C Lifetime Achievement Award Recipient Together, Ken and Sheila have won the United States International Style Standard Championships in 1974 and 75, were proclaimed the BiCentennial Champions, went on to win every major championship in both ballroom and Latin, and were inducted into "The Hall of Fame". Between them, they hold thirteen Star Ball titles in standard and Latin, and have represented the United States in five World Championships in the United States and Europe. They have danced on numerous T.V. shows, "The Today Show" in New York and the Dinah Shore Show in Hollywood. Ken was the choreographer for the remake of the Valentino movie. During all this time, the Emerald Ball continued to flourish and grow into a major championship event. The Sloan's brought in guest performers and teachers to increase the awareness of ballroom dancing as an art. All of the top dancers in the world have danced at the Emerald Ball and/or taught at Sloan and Sloan's School of Dance. Ken was honored to judge the World Championships in New York at the famous Felt Forum, as he is recognized as a Top World and International Adjudicator, teacher and coach.
Today, while the new directors prepare to carry on the high standards of the prestigious Emerald Ball, Mr. and Mrs. Sloan, who have retired from competing, plan to continue to travel, teach, coach, judge and perform any place in the world where the epitome of ballroom dance is needed, desired, respected, and studied. The GOLDEN YEARS would not have shone so brightly if not polished by the likes of "Sloan and Sloan".