The DanceComp Mobile App and now its Web Platform are built for the dance community as a source of accurate, timely and pertinent information.
We built a tool for Organizers to communicate, save money, and modernize their event.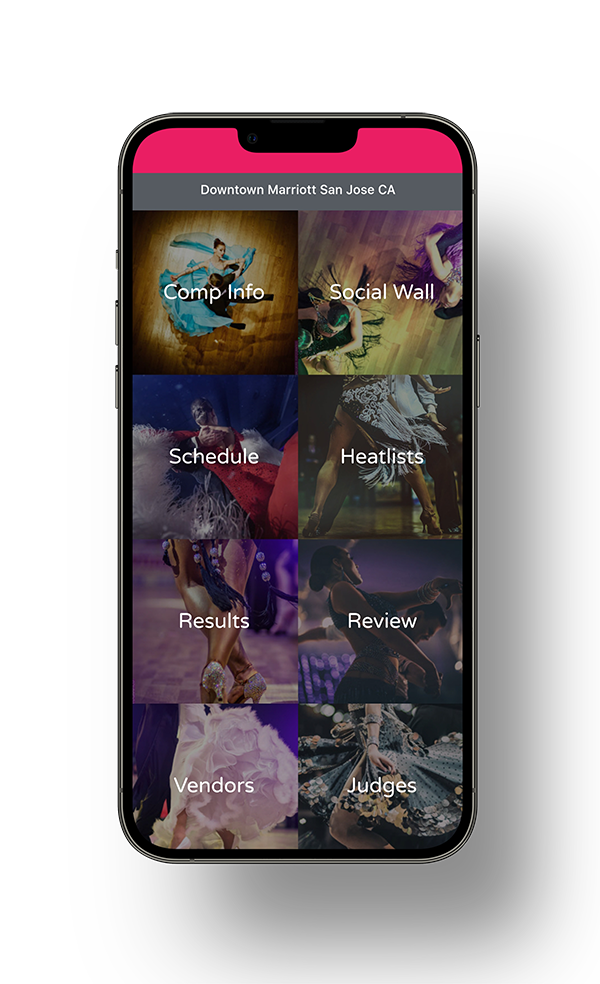 Your Event Information, in everyone's hand.
The DanceComp App fully replaces and enhances the paper program you would spend money and headaches to prepare and print. The information is always up-to-date and subject to any change at any time. 
It provides your dancers and audience with all the necessary information relevant to the event. 
Our newest feature: DanceComp Social Network
We have developed a full fledged Social Network Platform where people can post Photos, Videos, Thoughts, Comments. They can Follow people, Connect with them, Private Message them, Like their content, etc.
As an Organizer, your event can get its very own Private Social Group.  It is the place for direct communication with your Dancers and Audience. 
Grow your Community on a dedicated Social Network
Because DanceComp is solely related to Ballroom Dancing, it makes its social features more efficient than Facebook on the long term. The user get to choose which info they want to receive, by joining Competition Groups of their choice and following individuals of interest. 
Encourage people attending your event to join your Social Group, build your audience, and stay in direct contact with them throughout the event and after. 
More than just a Heat Counter, yet the best
Organizers usually associate DanceComp with the Heat Counter we provide to run a smooth event. Dancers completely rely on it nowadays and it is a must for any competition. 
Why is our Counter the Best?
Versatility of information
DanceComp Remote Services is more than just a Heat Counter, like other can offer. We provide a plethora of information and give you the ability to display it in many different ways.
We will work with your Screen Content Manager to explain how to obtain and display all the relevant data.
Attract Customers by accepting Crystals.
As dancers partake in activities within the App and platform, such as sharing Pictures or Video or leaving a Review about an Event, they get Experience Points which in return will earn them precious DanceComp Crystals. 
We will partner with a few selected events to also give away these Crystals to all Pro/Am Scholarships winners and Professionals. 
Redeem the Crystals and grow the industry
Some partnering Vendors and Events can now accept the DanceComp Crystals in exchange of goods and services. 
For example you could allow a Dancer to use 300 Crystals for a free Single Dance Entry at your event. Or 1,000 Crystals for a free Professional Entry. This can replace your Vouchers. 
Receive Entries and Payment using our Marketplace and Online Registration Forms.  
Our Online Registration System offers a quick and efficient way for dancers to send their entries and guaranty payment ahead of the start of the event. 
Dancers, Studio Managers, or Parents can now register to a participating event in just a few clicks and payment goes straight to your Account. It is ideal for both dancers and organizers. 
DanceComp by the Numbers (Last 12 Months)
DanceComp Platform
for Dancesport Competitions